Russian aggression has raised many questions for every person almost all over the world.
Business interests and obtaining commercial benefits from working on the russian market are not an exception.
After russia launched a brutal full-scale invasion of Ukraine, many multinational companies announced that they were voluntarily curtailing or ceasing their business in this country.
At the same time, many companies were forced to make such decisions only after facing opposition from their employees in Ukraine, clients around the world, and investors.
And today, not all companies that announced a complete withdrawal from russia have done so. For some corporations, the russian market is the most important source of profit, so they use every possible opportunity not to leave completely, but to preserve their reputation.
For example, a company can announce the sale of a russian company or an asset, without specifying any terms, which means that it may never happen at all. And this is only one of the loopholes.
Therefore, the research team of the Institute of Senior Executives of Yale University, headed by Jeffrey Sonnenfeld, set the goal of monitoring the activities of more than 1,300 foreign companies that worked or in one way or another continue to work on the russian market.
The activity of all companies is considered in the context of five subgroups: complete cessation of activity, suspension of activity, reduction of activity, continuation of activity without investments in development and continuation of work in the usual mode.
Of course, it is not timely to draw general conclusions, since the situation is changing, and every day companies make decisions that affect the overall picture.
However, 5 months of full-scale war allow you to clearly demonstrate some observations.
Yasno Research & Consulting Group team took as a basis the data published on the official source of Yale University on July 19, 2022 and analyzed the attitude of foreign companies to russian aggression in terms of types of activity and country affiliation.
We bring to your attention some conclusions.
More than half of foreign companies suspend or stop their activities on the territory of russia
In total, these are 802 companies, 306 of which have completely ceased their activities.
These are, for example, such companies as: BBDO, EPAM, Heineken, Henkel, HP, Netflix, Netscout, Nike, Nokia.
Almost 500 companies have suspended their activities, among them such brands as: 3M, Acer, Adidas, Apple, Amway, Asus, Audi, BMW, Chanel, Canon, Dell, Hitachi Construction, H&M, Honda, Hugo Boss, Hyundai, JYSK, L' Oreal, Lego, Mango, Mazda, Mercedes-Benz, Meta, New Balance, Nikon, Olympus, Panasonic, Nissan, Panasonic, Porsche, Prada, Puma, Reima, Rolls Royce, Samsung, Skoda, Sony, Subaru, Tata Motors, Victoria's Secret, Uniqlo/Fast Retailing, Volvo.
At the same time, 12% of companies made a decision to reduce their activity. This segment includes: Adobe, Alphabet, Caterpillar, Coca-Cola, Continental, Ferrero, Iveco Group, Herbalife, Mars, Microsoft, Miele, NielsenIQ, Oriflame Cosmetics, OTP Bank, Pepsi Philip Morris, Pirelli, Sketchers, Spotify, Tetra Pak , ¦NokianTyres, Toyota, Tikkurila, Whirlpool.
A third of the companies from the analyzed list continue their activities: 12% – without investments in further development and 18% – without any restrictions.
Companies that refused to invest in development, but continue their activities include: Alcon, AstraZeneca, Bayer, BlaBlaCar, Bolt, Campari, Colgate-Palmolive, Danone, Delonghi, Domino's Pizza, HiPP, Huawei, Japan Tobacco, Knauf, Lenovo, Metro, Nestle, Johnson & Johnson, Pfizer, Procter & Gamble, Red Bull, Roche, Sanofi, Toshiba Group, Xiaomi, Yokohama and Yves Rocher.
It is assumed that Chinese companies, in particular: Alibaba, ANT Group, Syngenta, make up the largest share in the segment where business continues to work without restrictions.
At the same time, here are also companies from Europe, America and Japan, in particular: Ariston Group, Asics, Benetton, Colin's, Diesel, Etam, Fujifilm, Gedeon Richter, Giorgio Armani, Gorenje, Lacoste, Legrand, Leroy Merlin, Letique Cosmetics, Makita, Medtronic, Mitsubishi, Heavy Industries, Pegasus, Philips, Tom Ford, Turkish Airlines, Zepter.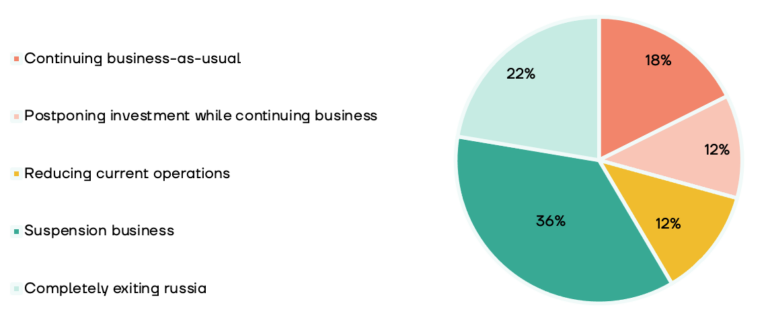 In the following charts, the data are presented in aggregate: the position "discontinue or reduce activity" includes companies that announced the termination of activity, suspension of activity, and also reduction of activity.
The "continue activity" group includes companies that continue activity without restrictions and companies that continue activity but do not invest in development.
The sample consists of 1,373 companies.

Among companies ceasing or reducing their activities, the largest part belongs to industrial companies and companies producing consumer goods, as well as the IT segment
Companies working in the field of consumer goods, in the segment of manufacturing materials or raw materials, in the energy sector, probably made a decision to operate in the russian market depending on the strength of public pressure and the position of the management, there is no single position of attitude towards russian aggression in these markets .
The number of companies in the healthcare segment that continue their activities is twice as many as those that left the market.
In particular, these are: Align Technology, B. Braun, Dr Reddys Labs, Fresenius, Gedeon Richter, Kemin, Krka, Medtronic, Sanatmetal Shanghai Fosun Pharmaceutical, Siemens Healthineers, Stada Arzneimittel, Stryker, Sun Pharma, Syngenta, Teva Abbvie, Alcon, AmerisourceBergen , AstraZeneca, Bayer, Boiron, Bristol-Myers Squibb, Dr. Theiss, Eli Lilly, GlaxoSmithKline, Johnson & Johnson, Laboratoire Servier, Menarini Group, Merck, Novartis, Novo Nordisk, Pfizer, Polpharma, Roche, Sanofi.
Among the companies included in the analysis, a more unanimous position is demonstrated by public organizations and IT companies – they more often decide to stop working on the russian market.
The majority of American and British companies express a clear negative position in relation to russian aggression
At the same time, companies from France and, to a certain extent, German, Japanese, and Italian businesses demonstrate an ambivalent attitude.
45 out of 51 Chinese companies whose activities were analyzed by Jeffrey Sonnenfeld's team continue to operate in the russian market.
Note that the diagram presents a shortened list of countries, namely, the countries with the largest number of companies whose activities were analyzed are shown.
For more detailed information, contact the Yasno R&C Group company at the link.