About project
When we decided to conduct this study, a part of our team was in Kharkiv, a city that was shelled and destroyed every second.
The main task at this time was one thing: to survive and save their loved ones. As soon as our team was able to move to safer places, the "how are you?" phase began.
And then we thought that we should ask those Ukrainians who are able to get in touch and have the strength to tell what they feel – from the first terrible minutes of the war to what they need now.
This project was attended mainly by the residents of Kharkiv and Kyiv, the residents of regional centers and several people from other cities of Ukraine.
Our questionnaire was distributed through social networks and personal connections. We present the results of our own volunteer project, carried out exclusively by our company's specialists to inform people who care about the fate of Ukraine.
In total, we received and processed responses from 225 respondents. Since most of them are residents of Kharkiv, we decided to highlight their opinions and views.
The main purpose of this report is to inform residents and non-residents of Ukraine, national and international organizations about the situation that has developed in our country due to the invasion of the russian federation.
Briefly about the main
The full report on the results of the study can be viewed at the link.
A safe place to live – one's own or family members – is the main problem for all Ukrainians, regardless of whether they managed to evacuate or not:
57.8% of respondents indicate that the greatest need is a safe place to live
44.4% were able to travel to a safer place
21.9% of Ukrainians who did not leave their homes believe that it is dangerous everywhere
Panic, fear and stress are the dominant emotions that Ukrainians point to as the first reaction to a military invasion.
Urgent problems include financial difficulties and medication problems, and limited access to health care
Please mark all the needs and problems that are most relevant to you now (all responses)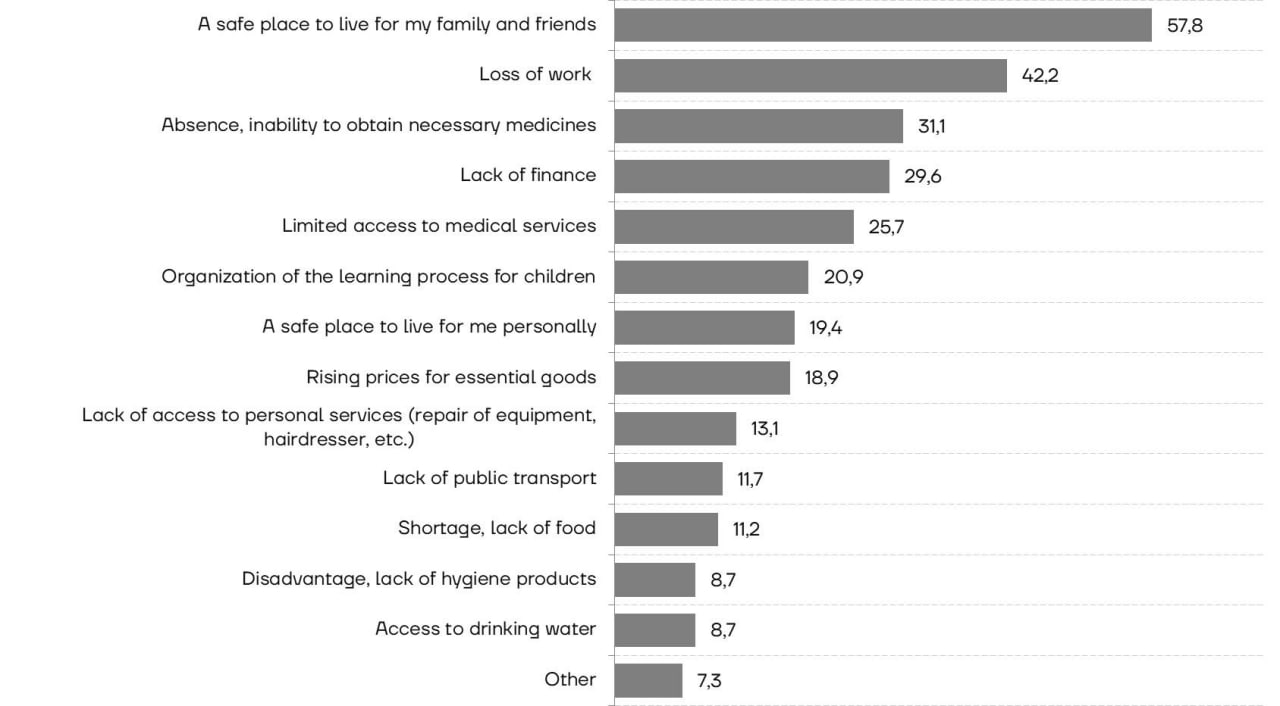 Results
71.8% faced financial difficulties (42.2% lost their job and the ability to provide for themselves and their families, 29.6% indicate a lack of finance)
38.2% talk about fear, panic, stress, anxiety in their stories about the first days of the war
31.1% faced the lack or inability to purchase the necessary medications
25.7% indicate limited access to medical services
25.3% of Kharkiv residents are concerned about constant bombing
Almost constant stay in a damp basement, the terrible sound of bombardments, like on the roof of our own house, artillery shelling around the house in which we live on the first floor. Life without sleep, fear of moving through the streets, a neighbor was shot in the leg while walking to the pharmacy. Feeling of constant horror, weariness and despair.

Female, 35-44, Kharkiv
The house of my elderly parents was damaged by shelling, it became impossible to stay there. I took them to my apartment. Then there was no electricity and heat in my residential building. Every day it became more dangerous to stay there, the shelling intensified.

Male, 45-54
To get a consultation
Describe your project and we will contact you as soon as possible
Thank you,
Your request has been sent!
We will contact you within 24 business hours